Solomon Ports' 'Green Port' Initiative Takes Flight
Light is Energy, Light is Life… Light is vibrant and it is safe. When it comes from the sun, it is free… free to capture, free to use, to store and to reuse again and again.
The lights at Solomon Ports are now solar-powered, high efficient LED. They are now bolder and brighter than ever before… and they have ushered in with them so many transcendent benefits to a nation that has always lived so closely linked with the sea as its main provider, transporter, protector and even sometimes, an untethered reminder of the true and awesome power of Mother Nature. All of those elements are now safer and more reliable due to the luminance resonating from the Solomon Ports in Honiara and Noro.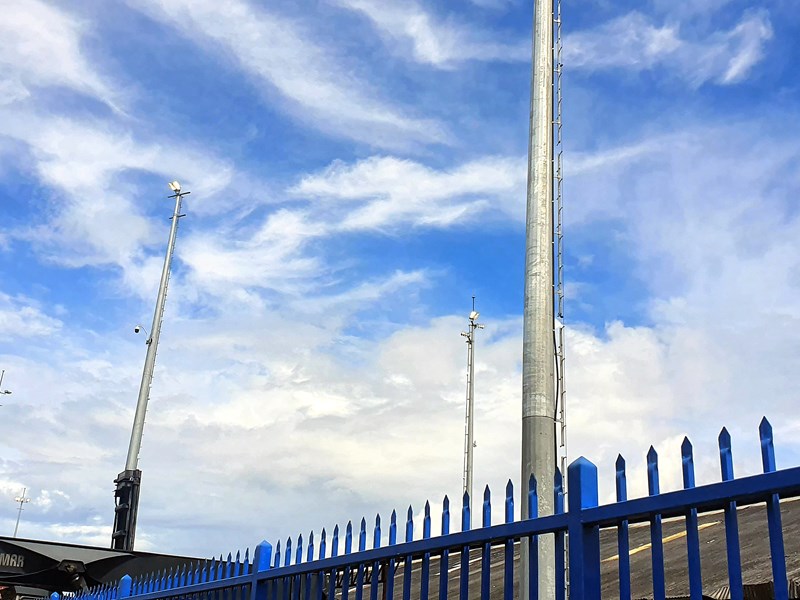 LED lights luminating the Honiara port facility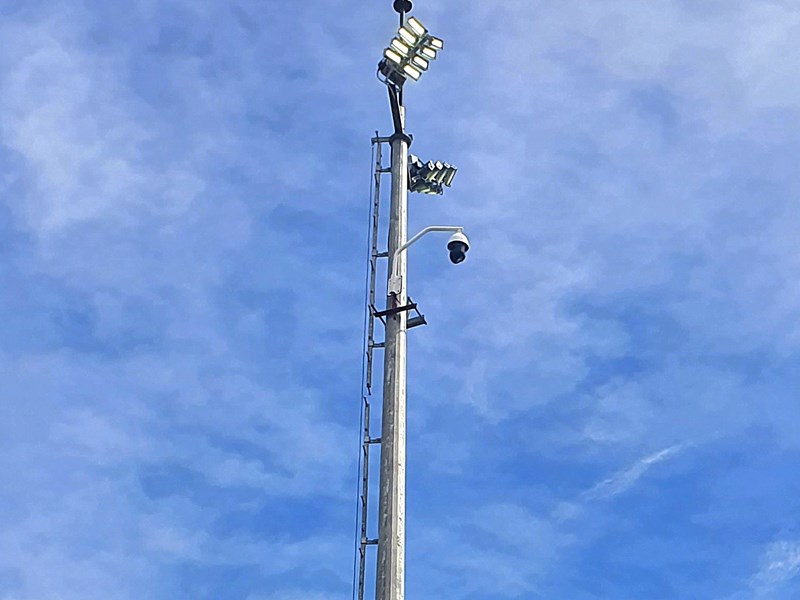 Sustainable LED lighting and security
A Green Light Burns Brightest of All
Solar-powered lights are not the only 'Green' initiatives that have recently been carried out at Solomon Ports. There are many other sustainable changes that have been made around the main ports of Honiara and Noro, and the impacts they provide is environmental, economic, cultural and communal in equal parts.
While almost any organisation can save money and reduce greenhouse gas emissions by implementing sustainable practices, few can ever so profoundly affect such a large percentage of a nation with their efforts as compared to what has transpired at Solomon Ports.
Leading a Nation
The Solomon Ports Green Initiative is a first of its kind in the island nation. No government entity or private institution in the country has ever taken on a project anywhere near this scope and scale. The pioneering effort was internally inspired, strategized and implemented by the Solomon Ports staff fully under its own directive to simply 'Be better… in every way'.
The Solomon Ports Team voluntarily adopted a quality, energy efficient and environmental management approach for its operations. Additionally, multiple 'green' audits were conductive under the expert eyes of the renowned eco-consultants at Nature Fiji. It should be noted that the success of this Green initiative has seen other Solomon Islands Government entities look to make their own green gains. The wheel is turning…
Leading an Entire Region
The success of the Solomon Ports 'Green Port Initiatives' has resonated to our brethren all around Oceania. Being the first in the South Pacific Islands to install these sustainable LED light and security systems yielded enquires from multiple South Pacific Island port authorities on how they might do likewise. Additionally, at the upcoming 45th PMTA (2020) Annual Conference to be hosted this July in Honiara, every South Pacific Island nation port authority will witness firsthand, a demonstration of our green initiatives and their full range of impact. The brightest beacon is the purest source of light…
Dramatically Improving Safety... in the ocean, on the ships, at the port, around the local markets and for great distances throughout the city of Honiara and the town of Noro.
Vessels now navigate the habour and its channels via solar powered leading lights and navigation lights far more securely. The fishermen who often sleep and stay on the moored vessels, now do so with improved security. The port is safer with decreased opportunity for theft… those who once tried, balk at the deterrents of bright lights and cameras. The markets are lit at night providing vendors and tens of thousands of residents with safe selling, safe passage and safe transactions.
Additionally, the greater area residents have more secure homes and businesses and they now all have precious lighting that remains splendent during the all-too-often experienced power cuts. High safety also directly correlates to high commerce… enhanced economics is yet another powerful upshot.
Supplying Power to Households
The Solomon Ports staff housing also is the benefactor of the solar panels. Sustainable energy and lighting for these employee 'communities' provides safety and many other desired benefits.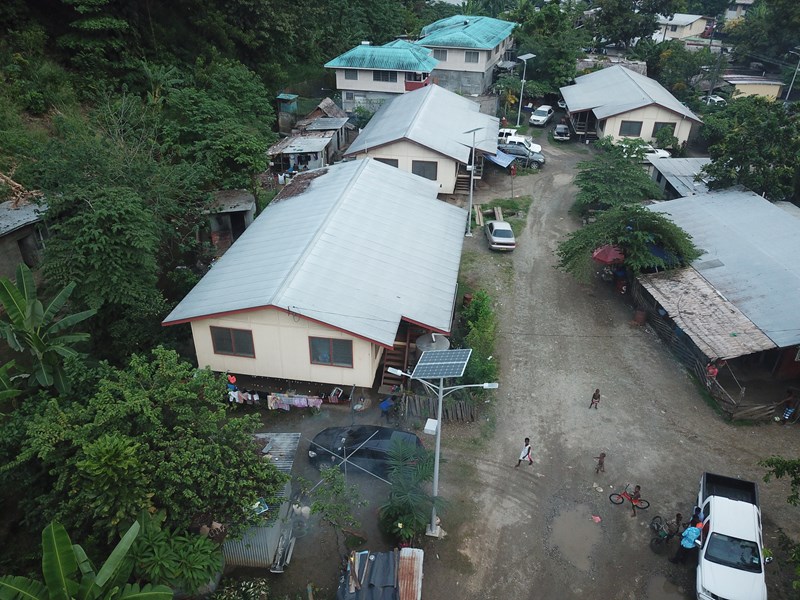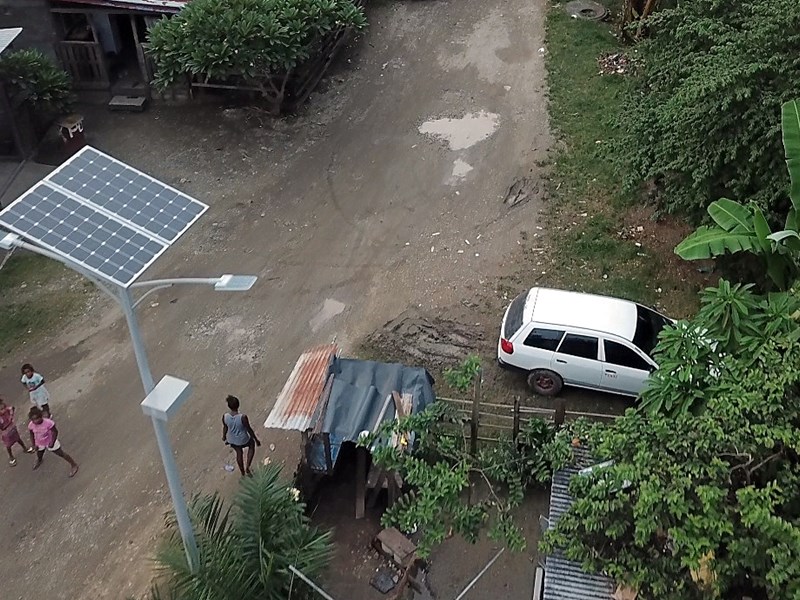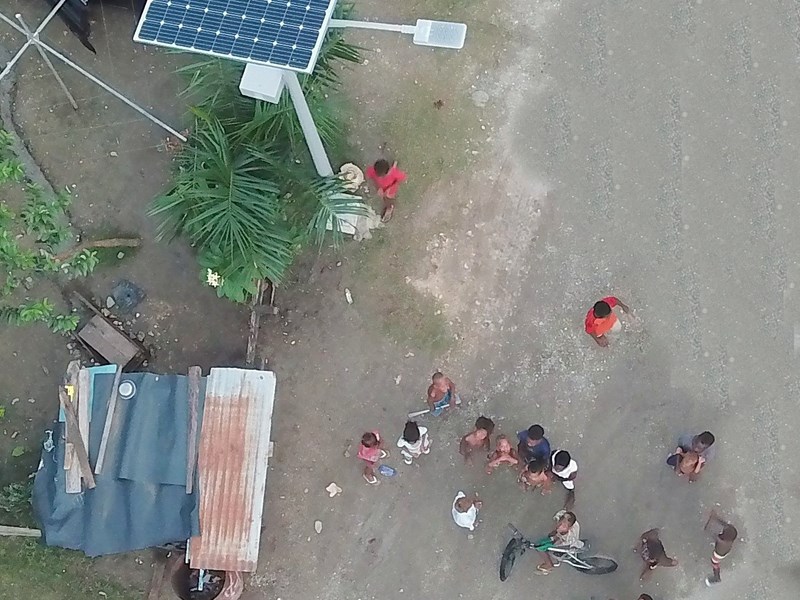 Sustainably Lighting the Staff Quarters compound, roadways and children's play areas
Adding 'Natural' Green to the Ports
What is light without life? The planting of new trees and flowers inside the port facility and operation areas served to inspire staff and visitors while further
offsetting greenhouse gas emissions and improving the facility's footprint along with the Ports' image.
Reducing Costs and Greenhouse Gas Emissions
Close to 45% of the Ports electricity is now coming from the renewable sources. In a country that faces increasing electrical costs, Solomon Ports costs are down 8% even while usage has increased due to our expanding operations.
Increasing Productivity
The lighting has directly led to enhanced efficiencies in Ports Operations and Productivity output. The LED and solar lights not only improved safety and security for containers, ports staff, and ships but provided higher visibility during night operation. Additionally, the introduction of new lights allows ports operation to operate 24 hours and improve ship turnaround.
Less Paper, More Attention to Better Systems
Another upshot of the Solomon Ports' Green Port directives is the reduction of paper usage. This not only helps the environment and saves money but it also has forced the staff to process and store data in more technology efficient ways, further reinforcing the cycle of 'green goodwill'.
The 'Green Zone' is Catchy
It's not just businesses and government entities that have seen the success of Solomon Ports Green Port Initiatives. Everyday folk who pass into Solomon Ports' Green Zone are regularly inspired to make changes in how they live and consume resources. The Solomon Islands are communal to their core… and the community is always about sharing with your neighbor, even when it's sharing a good idea.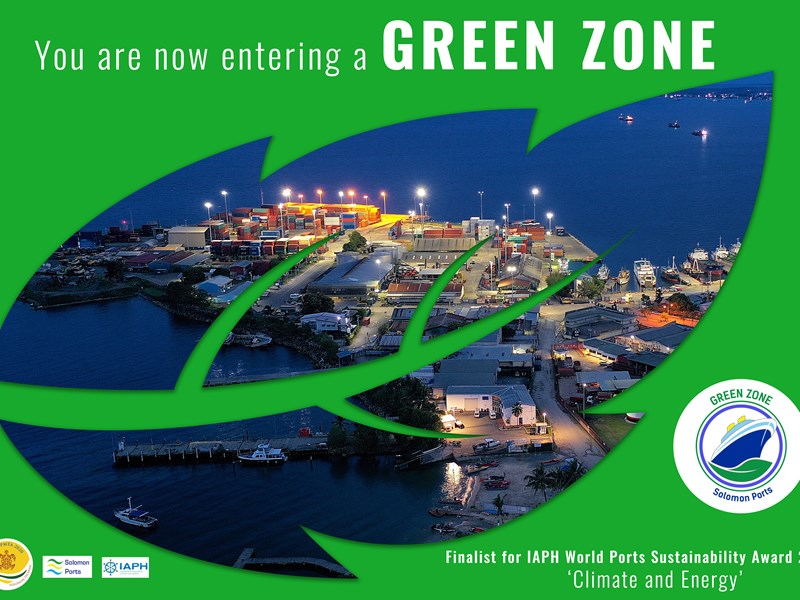 Green Zone signage at the Honiara Port entrance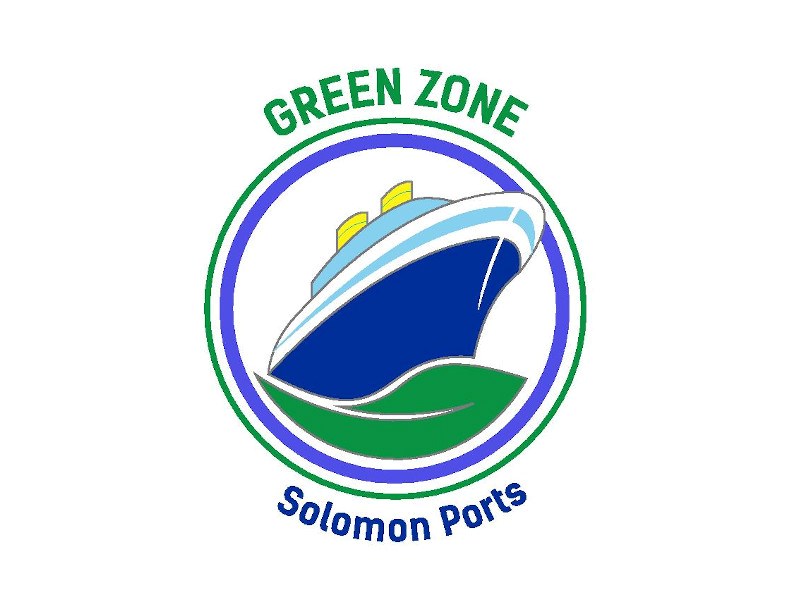 The Green Good Doesn't Stop Here
While 2019 was a watershed year for implementing Green projects, Solomon Ports has more in store on its journey towards becoming carbon neutral by 2030.
While the Port of Honiara already has installed the region's largest LED outfit for international and domestic terminal operations and solar powered lights for the ISPS perimeter fence, the Port of Noro will be powered by a 1Mw solar farm to provide electricity to power all its reefer containers. This is an SBD$15 Million project and places Solomon Ports as the first in the South Pacific to use 'LED lighting system' in its facilities and operations. It's not always the biggest who lead.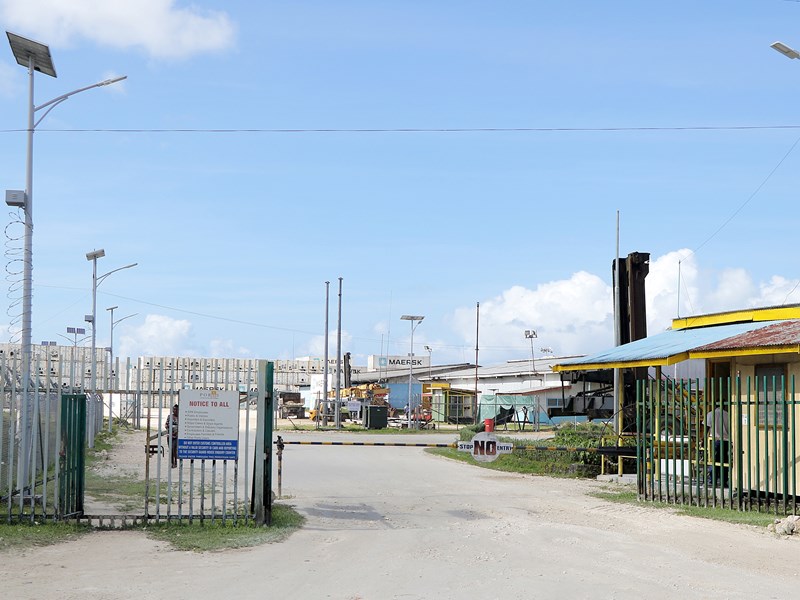 Noro Port's sustainable LED lighting system; local solutions to a global problem
Relevant United Nations Sustainable Goals