Solomon Ports is operating under International Ship and Port Facility Security (ISPS) Code. This is a set of measures to enhance the security of ships and port facilities around the world. In addition to adhering to the ISPS code, Solomon Ports under the SOE Act reports on security matters to Solomon Islands Maritime Safety Administration (SIMSA). SIMSA is a government body that deals with Maritime issues in Solomon Islands.
There are three security levels observed at Solomon Ports:
Level 1 – Normal business operations. Normal security measures observed.
Level 2 – A specific threat observed. Targeted security measures implemented.
Level 3 – High security risk. Normal business operations cease.
Ground access
Solomon Ports is enclosed by a perimeter fence for restricted access. The only authorized access points are through the exit gatehouse for walk-in port users and at the front entry gate for vehicles. The ISPS office is reachable by phone on 42362 and the application forms for ID and vehicle pass can be done online. ID card checks, gatehouse signage, CCTV and vehicle pass are the security measures taken at these access points.
Water-side access
For water-side access, there is a restricted buffer zone of 50 metres from the wharf or 50 metres from a vessel birthed at the wharf. All wharfs from domestic to international are fishing free zones. Public is strictly prohibited from fishing or diving in these spots. Penalties may apply if found.  
Photography
No photographs are to be taken inside the international wharf area. This is in accordance with ISPS code and Port Rules and Regulations. Photos will only be taken when authorized by the Ports Facility Security Officer (PFSO). The PFSO office can be reached on phone 42363. However, photographing is permitted along the Commonwealth Street all the way through to Yacht Club and also the domestic wharf area.
Port zoning restrictions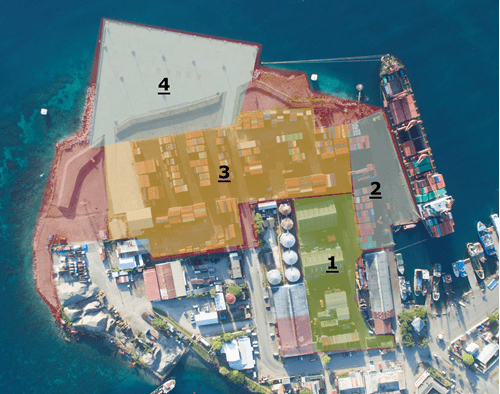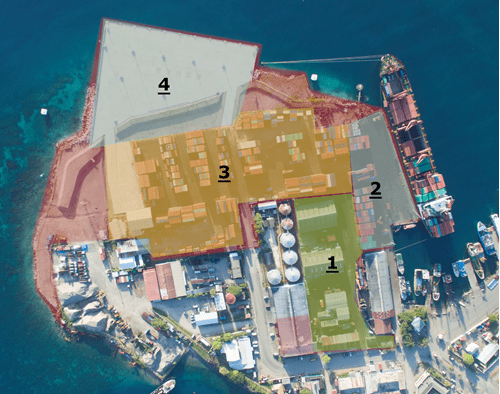 Zone 1 (green shade) – Warehouse 3 and 4.
Zone 2 (Teal shade) – International berth 1.
Zone 3 (Yellow shade) – Container yard where the control terminal is located.
Zone 4 (Teal shade) - International berth 2.
Port users are restricted to these zones.
Which zones to access is written on the ID card issued by the ISPS office situated in zone 1. Port users who are found in prohibited zones may incur a penalty or fine.
For further information please see the application form for ID cards.
Consistent patrols are being conducted with the use of patrol technology to the boundaries around Solomon Ports.