New International Wharf Opening Ceremony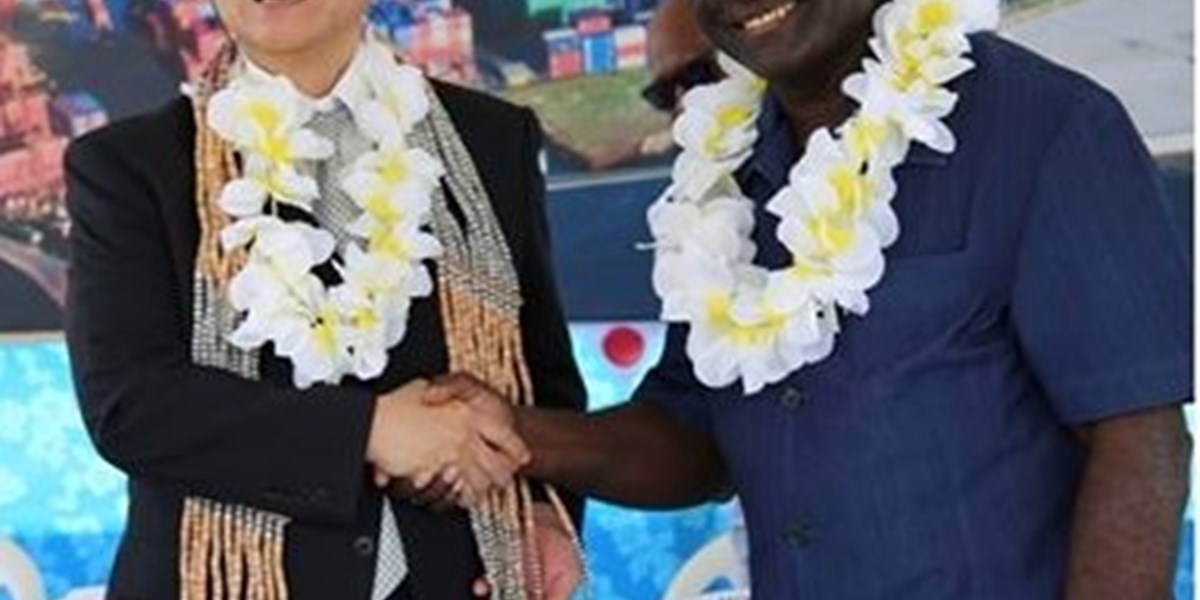 Prime Minister Hon Manasseh Sogavare with His Excellency Kenichi Kimiya
Prime Minister Hon Manasseh Sogavare together with the Minister for Infrastructure Development, Hon Jimmy Lusibaea and the Japanese Ambassador to Solomon Islands, His Excellency Kenichi Kimiya officiated the opening of what the Prime Minister labelled as a 'Wonderful gift from the Government and People of Japan to the People of Solomon Islands.'
That wonderful gift is a new International wharf constructed under the Japanese Government-funded Project for Improvement of Honiara Port Facilities. The ground-breaking ceremony for this project was also officiated by the Prime Minister and Ambassador Kimiya last year. "From the Government's perspective, this new international wharf will create more employment for Solomon Islanders and also introduce new skills to the Ports Authority Work Force," Prime Minister Sogavare elaborated.
The Prime Minister said he is also pleased to learn that JICA-funded projects including the new wharf facility are designed to withstand the effects of climate change. Meanwhile, Ambassador Kimiya in his speech at the occasion said, "I am very happy to be given a chance to cooperate with the Government of Solomon Islands on such a strategically important project which has direct impact on the development of Solomon Islands."
He says the Project for Improvement of Honiara Port Facilities aims to expand the port facilities including the construction of this new international wharf and also the construction of a second one (international wharf) so that larger vessels can be docked and shipping works can be done more efficiently. "I believe that this new Honiara Port will be one of the regional and international hubs of logistics and tourism and it will enhance the connectivity of Solomon Islands with the global economy.