SIPA staff visits NRH Children's Ward

Solomon Islands Ports Authority Staff today took time off work duties to visit the Children's Ward at the National Referral Hospital in Honiara.
Over thirty staff from the Port, including the Chief Executive Officer Mr. Eranda Kotelawala, visited both the Children's Ward and Nursery Ward early this morning and presented gifts for the babies and their parents.
The Ports staff shared words of prayers and words of encouragement with the children and their parents at the ward.
The gifts presented included essential supplies that the children and parents need during their stay at the hospital, which they welcomed in return.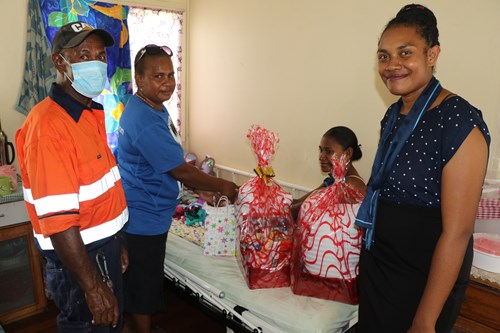 During the visit today, a brief ceremony was also held where SIPA Chief Executive Officer, Mr. Eranda Kotelawala shared the ports' greetings to the patients and staff of the ward.
Mr. Kotelawala said the intention of the visit was to share the spirit of Christmas, which is sharing, and encouraging people.
He said SIPA was glad in giving the gifts to the children of the ward and wished them a safe and speedy recovery.
Meanwhile, receiving the SIPA team was Dr. Baddeley Ludawane, who spoke on behalf of the staff at the ward and thanked the ports team for availing their time in visiting the children at the ward.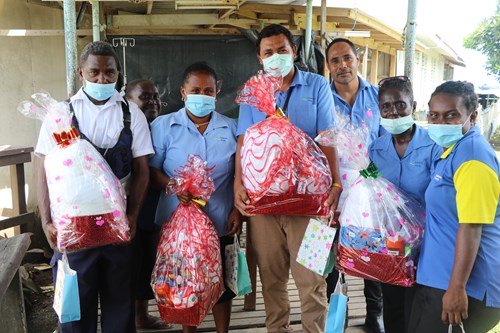 Dr. Ludawane said it is very encouraging and privileged for the staff at the Pediatric ward as they are one of the wards in the NRH to regularly receive such visits.
"This type of visit will not only bring joy to the parents and kids but is also makes us (staff) happy to see such organizations and company such as SIPA, recognize the need to visit our sick children at the Hospital," he said.
"Most of these children will definitely spend the Christmas here at the ward, and some have already been here for quite some time, but the visit today has definitely brought smiles to their faces, knowing that there are people out there who still care for them."
SIPA has been making such visits regularly in over the years, where the last time that they visited the NRH was in 2019, where SIPA staff shared gifts to all patients in the Hospital.
SIPA staff will make similar visits to the Christian Care Center at Tenaru later this week to visit and present gifts to victims of Domestic violence.