Solomon Ports signs MoU to assist small & medium exporters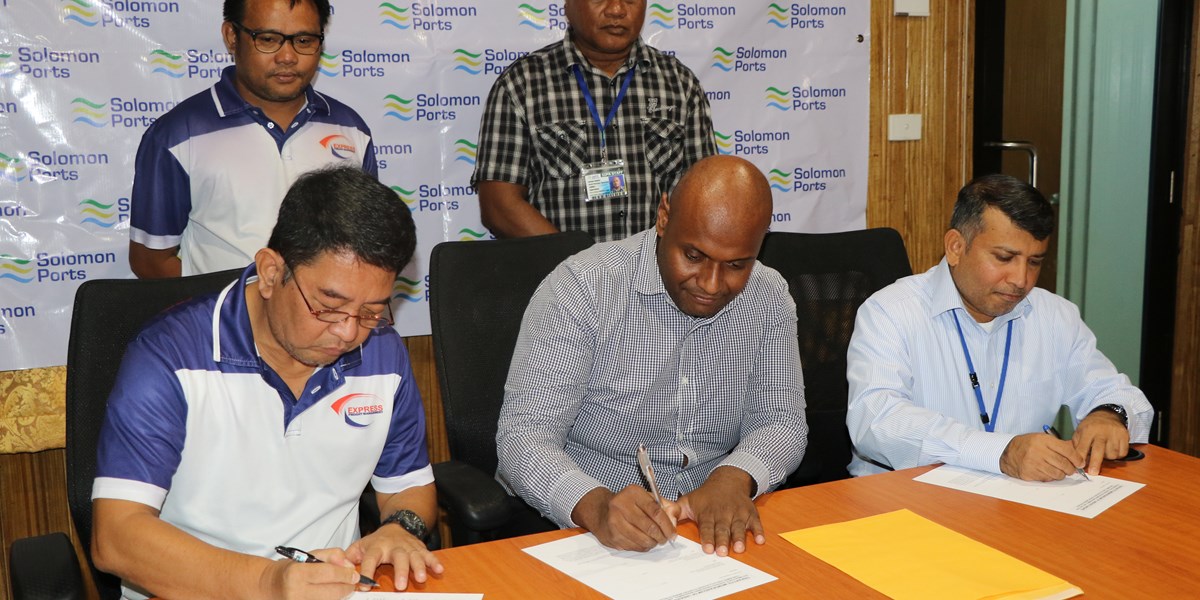 Solomon Ports this month signed a MoU partnership for an innovative export initiative. The signing was made between the CEO Solomon Ports, Mr. Eranda Kotelawala, Branch Manager Express Freight Management; Mr. Ronaldo Isip, and Ueniusu'unu Agribusiness Group
Mr. James Kana on the 5th of August.
The partnership paves the way for the collaboration to roll out the first of its kind pilot initiative; Less Than Container Load (LCL) Access to Export Markets Project, using innovative digital technology to address a significant bottleneck and barrier to export for small to medium farmers and growers across the Solomon Islands by enabling less than container load freight shipping from the Solomon Islands.
The pilot project seeks to unlock shared container exports and connecting small-scale aggregators, exporters, and intermediaries to aggregate freight for the specialty overseas market.
The pilot will initially focus on improving the shipment of high value commodities, starting with cocoa. Key boutique exporters and their farmer networks in Guadalcanal have been identified to trial the sharing of container to premium cacao markets.
The prototype LCL e-platform was developed in late 2019 and will be tested in the next 10 months.
This digital online platform offers an innovative tool for the market actors to trial a means of sharing information which will allow the process from farmer to export market timelier and more efficient.
This would revitalize the current intermediary model and supplement the lower end of the supply chain, targeting the reduction of constraints on information and coordination, costs and capacity, as well as opportunities and doable actions to improve freight and logistics for the agricultural sector in Solomon Islands.
Overall, this aims to create a digital platform that transforms the current process within the sea freight and logistics market, creating greater efficiency and transparency that will benefit all stakeholders.
Solomon Ports CEO, Eranda Kotelawala, thanked the partners and highlighted the importance of undertaking this initiative to support small and medium level exporters.
For every 5 containers that were imported into Solomon Islands full, only 1 will be exported out full. 4 containers are empty and remain at ports depot. This ratio is going to get worse given the current pandemic situation if major exports get further affected.
"The project hopes to address especially the challenges faced by Solomon Islands small medium businesses and growers to export markets," he said.
"Currently it is only possible to ship full container load on sea freight and this is not commercially viable for them."
The LCL Project Manager, James Kana, acknowledged the support given by Solomon Ports and Express Freight Management for partnering with the Project in this pilot.
He said this was potentially a game-changer in the logistics and agribusiness sector in Solomon Islands as no one has ever trialed such initiative.
"80% of Solomon Islanders live in rural areas; more than three quarters are households or smallholder farmer units engaged in various forms of agriculture as primary economic activity," Mr. Kana said.
"The tropical climate offers them favourable condition for high value cash crops like cocoa and kava; spice crops such as ginger, cardamom, chili, turmeric, as well as a range of organic fruit and vegetables."
From the initial pilot on niche premium cocoa export, this could be expanded to these high value agricultural commodities once an efficient and viable system is evident from the pilot outcomes." he added.
Ranked among the Top Global Green Ports in innovation and green initiatives, Solomon Ports ongoing efforts to connect digital transformation in enabling a broader catchment is crucial for the support along the value and supply chains, creating a robust and access-easy pathway to global export markets for Solomon Islands.