NEW KALMAR CONTAINER HANDLER COMMISIONED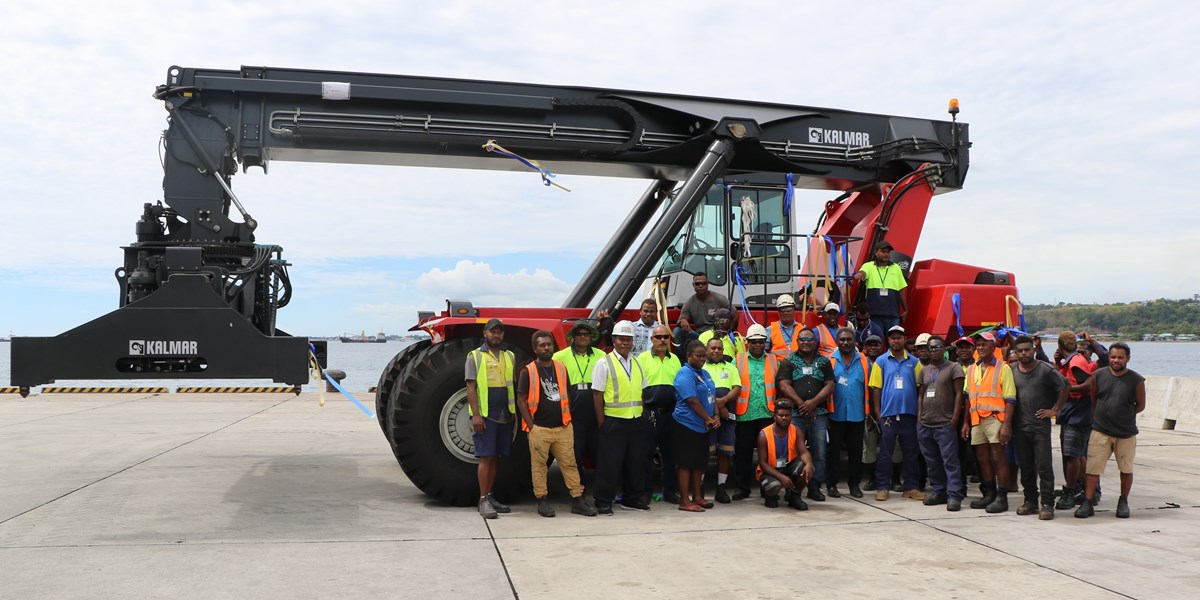 Solomon Ports this week commissioned its brand-new Kalmar Container handler at the International Port Terminal, Point Cruz, Honiara on Monday.
The new Model DRU 450-62S5 Reach Stacker Fully Laden Container Handler now adds to the impressive fleet of container handling equipment's at the Port.
Its lifting capacity is 45 tones and can handle Maximum Stack of 5 Containers.
The new machine costs SBD$3.6 Million and was imported from Australia in three parts and was fully assembled by Solomon Ports staff.
A similar Kalmar machine was transported down to Noro Port in the Western Province and will be commissioned within the coming weeks.
The Newly Commissioned Kalmar brings the total Machine Fleet Size at Honiara Port to,10 Kalmars, 6 Omegas, 5 Terminal Tractors & Trailers ( for both fully laden and empty container handling), which now brings the Total Fleet to 21 machines, the largest amongst Pacific Ports.
Speaking during the commissioning Ceremony, Chief Engineer Mr. Ronald Ivupitu said the arrival of the new machines truly signifies the ongoing growth and development of Solomon Ports.
He said before 2016, Honiara Port only had 5 container handling machines, and only one international wharf, which slowed down Port operations.
"From 2016 to 2020, total of 16 new machines were purchased , this has resulted in the improved Efficiency and Productivity of Port operations, we have seen increased ships turn around is now less than 24 hours – whereas ships used to que up," he said.
"For the first time, our new Kalmars were fully assembled by our own mechanics, operators, and riggers, which was previously done with the supervision of Kalmar experts – Congratulations to the Ports Team."
SIPA is implementing more developments in 2020 and has earmarked further infrastructure and other capital developments beyond 2020.