Solomon Ports succesfully hosts 45th Pacific Maritime Transport Alliance Conference 2023 in Honiara

Solomon Ports is proud to announce the successful hosting of the 45th Pacific Maritime Transport Alliance
(PMTA) Conference 2023 in Honiara. The three-day conference, held from July 10th to July 12th, gathered over
90 international and national delegates, including member ports from the Pacific Islands, sponsors, and nine
distinguished international speakers. Under the theme "Climate Change - Sustainability and Resilience of Pacific
Ports," the conference provided a platform for insightful discussions, knowledge sharing, and collaborative efforts
towards a sustainable future for Pacific ports.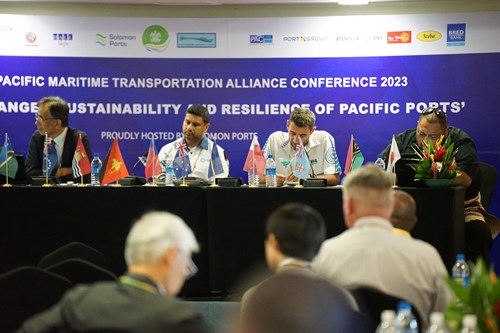 The conference commenced with a warm welcome from Solomon Ports, highlighting the importance of the event in
addressing the challenges posed by climate change and promoting sustainable practices within the maritime industry.
The event witnessed speaker presentations, engaging panel discussions, and country reports from PMTA member
ports, showcasing their commitment to adapt and build resilience in the face of climate change.

Mr. Eranda Kotelawala, the Chief Executive Officer of Solomon Ports, expressed his delight at the successful
conclusion of the conference, stating, "The 45th Pacific Maritime Transport Alliance Conference has been an
exceptional platform for our industry leaders, experts, and stakeholders to come together and address the pressing
issue of climate change. It is encouraging to witness the commitment and determination shown by our member ports
towards sustainable and resilient practices, ensuring the long-term viability of our ports in the Pacific region."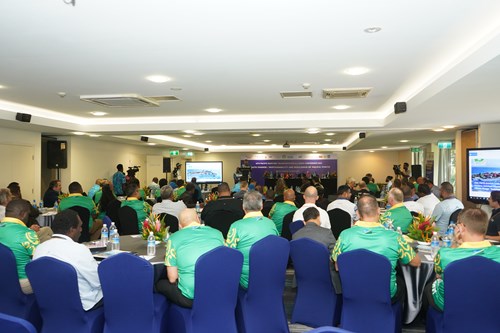 Throughout the conference, the distinguished international speakers shared their expertise and insights on various
topics related to climate change, sustainability, and resilience in the maritime sector. Their thought-provoking
discussions provided a comprehensive understanding of the challenges faced by Pacific ports and explored innovative
solutions to mitigate the impacts of climate change.

Mr. Kotelawala further added, "We are immensely grateful to all the international delegates, sponsors, and speakers
for their valuable contributions to the conference. Their active participation and support have made this event a
resounding success. We look forward to continuing our collaboration and strengthening the bonds within the Pacific
maritime community as we collectively work towards a more sustainable and resilient future."

The 45th PMTA Conference concluded with a renewed commitment from all participants to embrace sustainable
practices, invest in resilient infrastructure, and foster collaboration among Pacific ports. Solomon Ports extends its
gratitude to the conference organizing committee, the dedicated staff, and the government of the Solomon Islands for
their tremendous efforts in hosting a memorable and impactful event