Solomon Ports launches 45th PMTA official logo and website.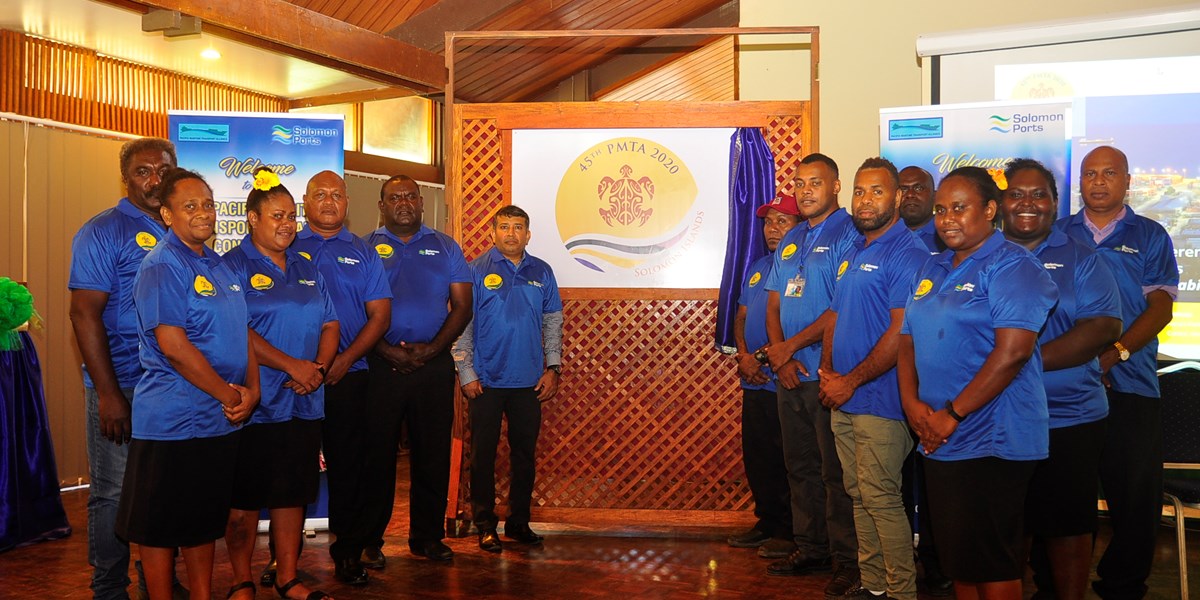 Solomon Ports has officially launched the 45th Pacific Maritime Transport Alliance Conference (PMTA) logo and website.
The 45th PMTA 2020 conference is scheduled for 8th to 10th July later this year in Honiara, and this year's conference theme is "Climate Change- Sustainability and Resilience of Pacific Ports".
This will the first time Solomon Ports will host such prestigious event after 26 years, which is an opportunity for the SOE to promote the City of Honiara and the country.
It is also the first ever PMTA conference to have its own logo and website.
The website will be the home for the home for all relevant technical papers and information's about the conference, the logo signals the unity between pacific ports and maritime associations.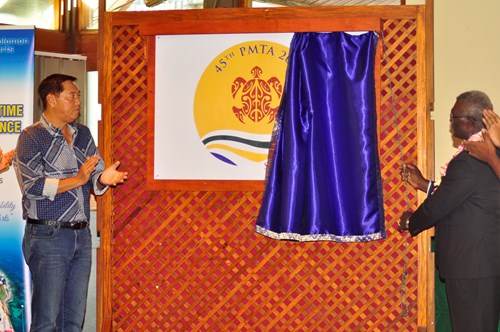 The Pacific Maritime Transport Alliance (PMTA) is a regional group that promotes regional cooperation, friendship and understanding between member ports and port users through mutual association, exchange of knowledge and the dissemination of information useful to port administrations.
This year we expect more than 125 guests to attend, ranging from regional and international port authorities and companies to international port service providers and observers.
Honorable Prime Minister Manasseh Sogavare graced the occasion today and was given the honor of officially unveiling the logo and launching the conference website.
Speaking during the event today, Solomon Ports CEO Mr.Eranda Kotelawala said the conference is very significant for Pacific Ports, where they can get together every year to discuss challenges, issues, progress and development strategies.
He also gave assurance that Solomon Ports will ensue this year's conference will be conducted in international standards.
"There are a lot of speculations that Solomon Islands can't host such events, but I want to assure you my team is all geared up and ready to host this conference," he said.
"We will ensure this conference will give regional and international confidence in the country and to promote Solomon Ports, City of Honiara and the country."
Meanwhile, Chief Guest and Prime Minister, Hon. Manasseh Sogavare thanked the Board and Management of Solomon Ports in bringing this key regional conference to the country.
He said he has confidence that Solomon Ports will conduct the conference successfully and prove to the rest that the country can do it.
"The question is can we do it? Umi save duim (yes, we can), and as a first-time host, there is a lot of expectation on us to deliver," he said.
"This requires us to be well advanced in our preparatory work, among the early preparatory milestone is to have a logo and website, these two items provide the public icons for the meeting."
See link to 45th PMTA website: http://pmtasolomons.com/
ENDS///