SIPA Domestic Terminal upgrade takes stride.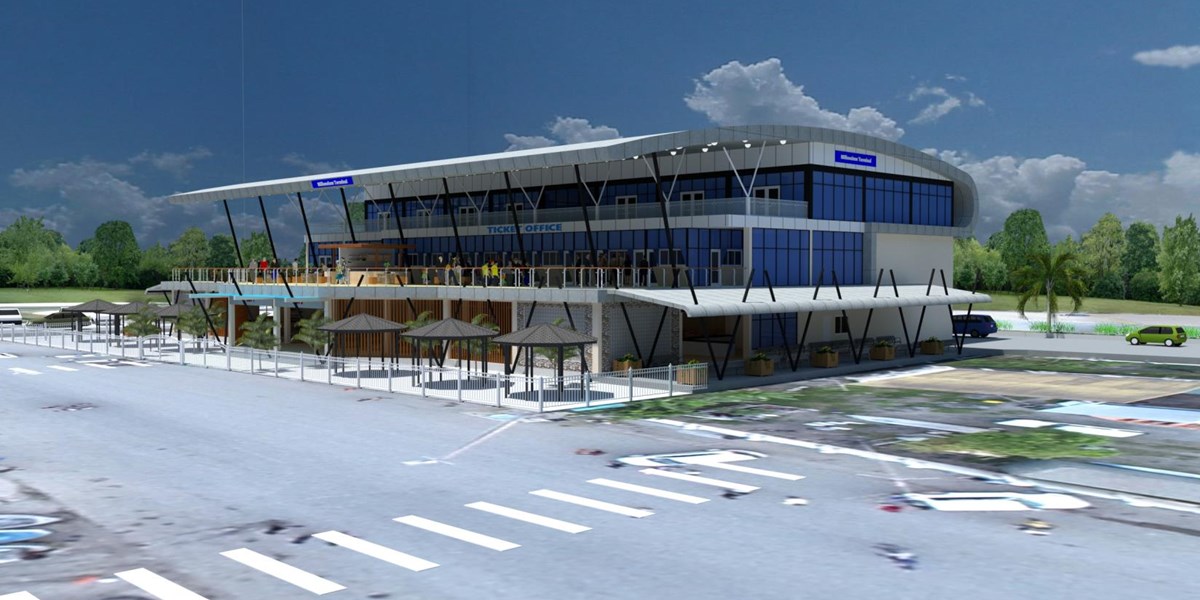 Solomon Ports this week on Tuesday commissioned the new 'Domestic Terminal Exit Gatehouse and officially unveiled the design concept of the proposed new 'Domestic terminal building'.
The new Exit Gatehouse now adds to the ongoing efforts of SIPA to modernize the domestic terminal and improve shipping services for port users.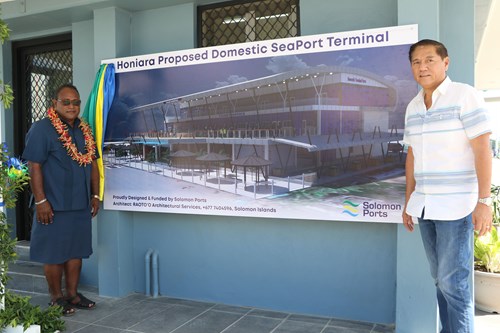 Photo: Deputy Prime Minister Hon. Manaseh Maelanga and SIPA Chairman Johhny Sy unveil the new design and concept for the new Domestic Terminal office.
Adding to that, Deputy Prime Minister Hon. Manaseh Maelanga, who was the chief guest during the commissioning event on Tuesday, was also given the honor of unveiling the concept design for the new proposed domestic terminal.
The proposed three storied building will host several services that port users can use while waiting to board domestic vessels.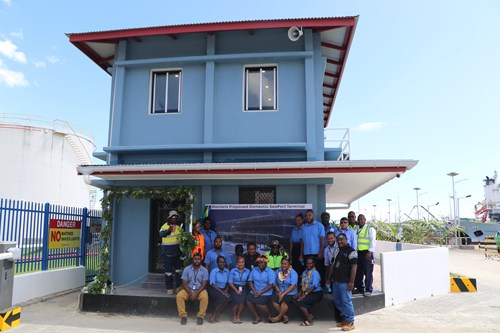 Photo: SIPA staff pose for a photo outside the new Domestic terminal exit gatehouse.
The first floor will host cafés, and shops, while the second will host a public viewing gallery, and ticketing offices, and the third-floor feature offices.
The building will cost over SBD$30 million and is fully funded by SIPA, also designed by a local Architectural firm, Raoto'o Architectural services.
Speaking during the event, Deputy PM Maelanga expressed the government's acknowledgement and appreciation on the steps SIPA is taking to improve the port of Honiara.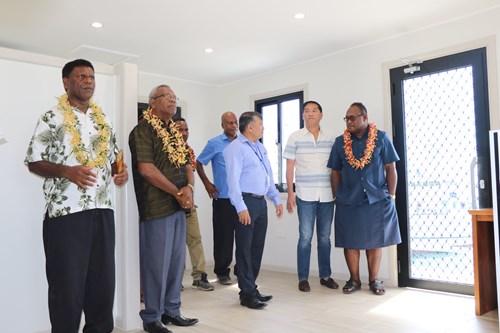 Photo: Guests Inside the new terminal exit gatehouse building.
Mr. Maelanga said the new domestic terminal exit gatehouse and ongoing developments at the domestic terminal will surely ease the movement of people using the port to travel in and out of the capital city.
Meanwhile SIPA Chief Executive Officer, Mr. Eranda Kotelawala these new developments will improve the standard of Honiara Port, and will make Honiara Port a model port in the pacific region.
Mr. Kotelawala said for the last 50 years, the port has been without a proper domestic terminal facility.
He said the new facilities were aimed at improving efficiency and service delivery to port users.
Work on the proposed new domestic terminal building is expected to commence soon.